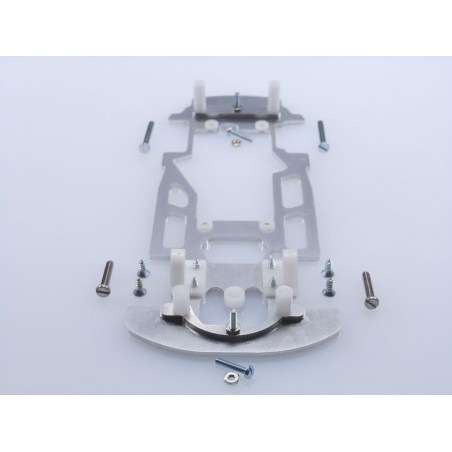  
Telaio Mercedes SLS
Telaio in ergal per la Mercedes SLS Carrera - Alluminium chassis for Carrera's Mercedes SLS
Trasforma la tua auto Carrera in una slot performante, facile e divertente da guidare semplicemente sostituendo il telaio di serie con il telaio in ergal realizzato da PRS, continuando ad utilizzare le sedi originali delle viti, senza dover incollare supporti oppure lavorare la carrozzeria!!!
Abbiamo realizzato telai su misura per i modelli della categoria GT, come Ferrari 458, Mercedes SLS,seguiranno  Audi R8 e Corvette C6 ed infine BMW M3 e Porsche 997.
I telai permettono la regolazione della distanza carrozzeria-telaio tramite grani M2 all'anteriore come al posteriore; l'assale anteriore è regolabile in altezza e si possono montare i supporti motore Slot.it in tutte e 3 le configurazioni, Sidewinder, Anglewinder ed In Line; sono disponibili anche gli abitacoli in lexan, in modo da ridurre ulteriormente il peso.
---
With the PRS Chassis your Carrera slot-car becomes faster, more enjoyable and easier to drive.  The PRS Chassis is easy to attach using the original screw positions without the need of glue or body modifications.  PRS Chassis are currently available for the Ferrari 458 and the Mercedes SLS.  Audi R8 and Corvette C6 chassis will soon be in production and BMW M3 and Porsche 997 chassis will be soon to follow.

The PRS Chassis allows you to adjust the distance between the chassis and the body of the car with front and rear M2 steel screws, permitting you to set the ground clearance of the front axel.  The PRS Chassis is compatible with all 3 configurations of Slot.it motor mounts — Sidewinder, In Line, and Anglewinder. Vacuum-formed lightweight interiors are also available. 
16 other products in the same category:
No customer reviews for the moment.